Headlines for Saturday, October 25th 2014
Important Square 1 Art Time New
Square 1 Art is a wonderful fundraiser that celebrates your child's artwork along with helping our school. Thank you for supporting Holy Trinity Catholic School. Look for your child's FREE STICKERS with custom catalog coming home this soon. Preview your child's artwork and purchase gifts.
Important Knight's of Columbus Art Contest - Consent Forms Coming Home New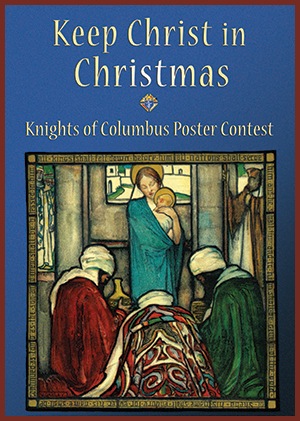 This year, our Holy Trinity School students are teaming up with the Knights of Columbus for the Knight's "Keep Christ In Christmas" poster contest. Next time you are in either school, look for posters on display sharing details about the contest. IMPORTANT: A consent form your students to participate in this contest will be coming home this week and needs to be returned to classroom teacher asap. Thank you.
Important October Meet and Eat @ Monical's Pizza on Tuesday! New
Our first Meet and Eat was such a wonderful success. Now it's time to get the 2nd event on your calendars. Join us for our next Meet and Eat: Tuesday, October 28 at all 3 Bloomington/Normal Monical's locations. Monical's will give back 20% of your bill to HTS. (Not valid for deliver or with any other coupons.). Click HERE to download the flyer. You will need this when ordering. Thank you!
Important Time to Schedule Conferences!
This year we are taking a different approach to our conferences:

For our Preschool 3's and 4's classes, conferences will take place between parents and teachers during the dates and times listed below. However, for our students in grades K through 8, conferences will include the students along with the parents and teacher. We are hoping for 100% participation from families as conferences are a vital time to share information, ask questions, and build relationships between families and Holy Trinity staff.
Conferences will be held on Thursday, November 6 from 12:30-7:30 and on Friday, November 7th from 8:00 - 12:00. Please call the school offices to set up an appointment: Elementary, 662-3712; Junior High, 828-7151. Note: We will have an early dismissal on Thursday, November 6th: Junior High: 11:30 and Elementary: 11:45, and school will not be in session of Friday to allow for conferences.
Important Monicals and SCRIP....Plan Ahead
Don't forget to buy Scrip cards on Monday at drop off or after weekend Masses for the Meet and Eat at all 3 Bloomington/Normal Monical's on October 28th. It's a great way to earn even more money for our school!
Important October Happenings
Click HERE to see all the special events happening at Holy Trinity School during the month of October!
Important Holy Trinity School is Collecting Old Jeans for a Great Cause!
Holy Trinity School is working to help support a great cause. ISU students in the Fashion Merchandising and Design Department have been selected as one of only four campuses nationwide by Cotton Incorporated to collect used denim! Cotton Inc. recycles your old jeans to be used for building insulation….and donates this insulation to Habitat for Humanity and other charitable organizations/communities in need. (You can learn more about the process at: http://www.bluejeansgogreen.org/) . The students have been charged to collect 500 pieces of denim. It can be any color, size, with holes, stains, pants, jacket, skirt, overalls, etc. We have until October 31st to complete this mission. Holy Trinity School is one of the collection locations. So, as you get ready for winter and run across jeans that your children may have outgrown, or you have decided just aren't your style anymore, please consider helping out this cause. Thank you for your cooperation and support!

Important CCHS @ A Glance
Click
here
to view Central Catholic High School news and upcoming events.
1st Quarter Box Tops Contest Winner New
The 1st quarter contest for Box Tops and Labels for Education has wrapped up, and we wanted to share with you the results. Mrs. Hester's class collected the most labels and box tops. They had a total of 2,178 and will be treated to an ice cream party. Click HERE to see how other classes did -- time for some friendly competition! Every box top and label means $ for Holy Trinity School, so please keep shopping and cutting!
School Events
Calendar
Thursday October 23
@ Blue Ridge Mansfield 7/8 GBB - 5.30pm - 8.00pm
HTE Gym 5 GBB only VS Eureka - 7.00pm - 8.00pm
Friday October 24
Lunch: Pasta w/alfredo, Carrots, Breadstick, Peaches
Gr 5 to Westminster Village - 9.45am - 10.45am
Builders Club - 11.20am - 11.45am
HTJH GYM CHEER PRAC - 3.00pm - 4.30pm
HTE Gym 6 BBB PRAC - 3.30pm - 5.00pm
HTE Gym 8 GBB PRAC - 5.00pm - 6.30pm
Saturday October 25
HTE Gym 5/6 GBB vs Metcalf - 8.00am - 10.00am
HTE Gym 7/8 GBB VS BJHS - 10.30am - 1.00pm
HTE Gym 8 BBB PRAC - 1.30pm - 3.00pm
HTE Gym 7BBB Prac - 3.30pm - 5.30pm
Sunday October 26
Coaches baseball Mtg - 2.00pm - 3.00pm
Monday October 27
Lunch: Hot Dog, Mac & Cheese, Green Beans, Orange slices
Young Authors - Workshop #1 - 3.15pm - 4.00pm
HTE 8BBB Prac - 3.30pm - 5.00pm
HTE Gym 7/8 GBB VS Fisher - 5.30pm - 8.00pm
@ Forrest upper elem. 5/6 GBB - 6.00pm - 8.00pm
---
Flyers
&
Documents